: Panasonic Data Partner JT-785 :
I acquired this at the 2005 Dayton Hamvention. It is a Panasonic data collection computer, the JT785. It runs DOS 3.22 and has just under 1kb of internal flash memory for file storage. The screen is backlit and is touch sensitive. Although it only has a number pad on it, the touch screen inputs letters and other characters. In the center picture you can see my map I created so I can use the touch screen keyboard reliably.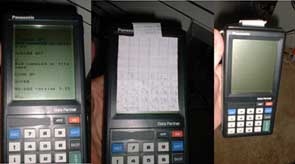 It has the following ports on the edges of it:
Side: Serial
Side: Barcode
Side: Charge (5.8v, center negative)
Bottom: Communication
There's also an expansion port on the backside that pops open and allows you to plug in some type of card into it. It appears to be a proprietary expansion port. I would assume that this becomes the B: drive when you plug something into it.